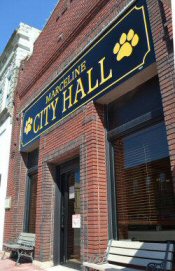 Marceline, MO - It's that time of year again - Candidate filing for the Marceline City Council. The General Election will be held on Tuesday, April 5, 2016. Two (2) Councilpersons will be elected at large to serve three (3) year terms. Currently, those seats are held by Councilman Jeri Holt and Councilman Josh Shoemaker. Councilman Shoemaker is currently serving as the Mayor, while Councilman Jeri Holt is serving as Mayor Pro-Tem. Members of the Marceline City Council serve their community by setting policies for the City of Marceline, approving the operating budget each fiscal year, and ensuring the best interests of the City as whole are met. City of Marceline residents who desire to be a part of Marceline's bright future are encouraged to file as a candidate for the City Council.
Candidate filing opens on Tuesday, December 15th and will close at 5:00 pm on Tuesday, January 19th. Those wishing to file can do so in person with the City Clerk at Marceline City Hall between the hours of 8:00 am to 5:00 pm between those dates, except for December 24th-25th, January 1st, weekends and after 10:30 am on December 17th and 23rd. Candidates are required to file an affidavit with the Department of Revenue regarding payment of any state income taxes, personal property taxes, municipal taxes, real property taxes on place of residence, as stated on the declaration of candidacy, or if the person is a past or present corporate officer of any fee office that owes any taxes to the state per RSMo 115.306. This is in addition to the "Declaration of Candidacy" form and Personal Financial Disclosure form (if required). Those filing are to be a resident of the City of Marceline for at least one year at the time of the election and a registered voter.
In addition to the Council Election, qualified voters will see a $1 million dollar bond issue for the pool project on the ballot. This is to fund the replacement of the City's current fifty-nine year old pool with a new pool to serve our community in the years to come. This is part-two of the financing plan for the pool project. Part one of the pool project financing, a 1/2 cent sales tax, was approved by the voters on November 3, 2015. This tax will go into effect if the bond issue passes.
Individuals wishing to be register to vote for the upcoming election in April can do so by filing with their County Clerk by March 9, 2016.
# # #