Marceline, MO - The Marceline City Government will be closed for normal business in observance of the Thanksgiving Holiday. The following are reference dates that may be helpful for scheduling purposes:
Thanksgiving Holiday:
City Hall Offices: Closed Thursday & Friday, November 26-27

Post Office: Closed Thursday, November 26 (office and delivery service)

Marceline Carnegie Library: Closed Thursday & Friday, November 26-27

Marceline R-V Public Schools: Closed Wednesday-Friday, November 25-27

Father McCartan Memorial School: Closed Tuesday (12:15 pm) – Friday, November 24-27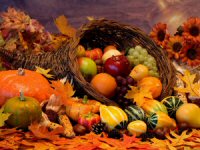 Advanced Disposal (Garbage Service):
There will be no commercial service on Thursday, November 266th (Thanksgiving). Commercial customers normally serviced on Thursday will be collected on Friday, November 27th. Customers normally serviced on Friday will be collected on Saturday, November 28th. Residential customers will not be affected by the holiday closure.
# # #