Marceline, MO – City Manager Richard Hoon and Bob Green, the Project Coordinator, have been steadfast in meeting with government officials at the State and Federal level in an effort to bring attention to a facility currently in the possession of the City for re-purposing to a VA Veteran's Home. The facility, the former St. Francis Hospital (aka Marceline Business Complex) is currently vacant, and is well-suited for a home for future care of our Veterans. The City of Marceline is willing to transfer the property at zero cost as long as the facility is to be used as a Veterans Home. Green and Hoon have provided government officials with numbers requested, and an architect who is thoroughly familiar with the code requirements of a VA facility has reviewed the site for compliance.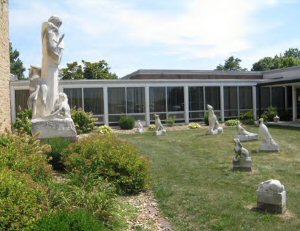 All parties have expressed interest in this project, but are stymied by the lack of funds allocated for a re-repurposing project such as this – the first of its kind. The City is now embarking on another phase of bringing this project to fruition: a letter writing campaign.
The City is seeking the public's help on this phase of the initiative through a "Call to Action" in the form of a letter writing campaign to let our government representatives know how important this initiative is – not only to the approximately 13,581 underserved Veterans in North Central / Northeastern Missouri, but the huge economic impact such a facility would have on the region. Currently, there are over 1,900 Missouri Veterans awaiting space in a facility to provide for their continuing care.
Letters should encourage elected officials to enact and support legislation to provide funding for re-purposing this existing facility to be used for care of our deserving Veterans. This action will reduce the time to have a Veterans Home operational at a cost of $6-10 Million versus a newly constructed facility at an estimated cost of $50 Million over a 3-5 year time frame.
Template letters have been prepared for the campaign and can be viewed at the following links:
Letters from individuals: http://www.marcelinemo.us/Individual_Letter.pdf
Letters from Groups/Organizations: http://www.marcelinemo.us/Organization_Letter.pdf
In addition, the City has prepared the names/addresses of the government officials (with jurisdiction) where letters should be submitted. They can be viewed here: http://www.marcelinemo.us/MO_Govt_Officials.pdf
Our Veteran's need your help! This is the time to make a difference and let your voice be heard! For more information about this initiative, please contact Bob Green at (660) 412-3018.
# # #