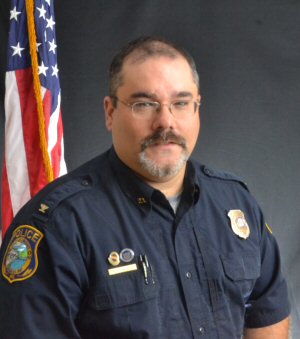 Marceline, MO – Chief Robert Donelson was appointed to his current position as Chief of Police on Friday morning, June 19th, during shift change at the Police Department. Mayor Josh Shoemaker, Council Members and City Staff were present to observe as City Manager Richard Hoon read the appointment for a one-year term beginning June 19, 2015.
"Chief Donelson stepped up to the plate and provided strong leadership in the department during his tenure as the Acting Chief," said City Manager Richard Hoon. "I feel his appointment is well-earned and a great step forward for Marceline."
Chief Donelson began has law enforcement career in 1996 after graduating the Missouri Western University Regional Law Enforcement Academy. He went on that year to begin his career with the Buchanan County Sheriff's Office. Bob relocated to the Eastern side of Missouri working in Macon and Moberly before coming to Marceline in 2009.
Chief began working in Marceline as a Patrolman then was promoted to Sergeant in 2010. Bob was promoted to the rank of Captain in 2012. Bob has served most of his career in the role of uniform patrol including being assigned to motorcycle traffic unit.
Donelson holds many certifications including D.A.R.E., SFST, Breathalyzer, Defensive Tactics, Baton, and Racial Profiling instructor. Bob is also a certified Generalist Instructor through the Missouri Peace Officers Standards and Training. He is currently a member of the Missouri Police Chiefs Association and a former member of the Missouri D.A.R.E. officers association. Bob serves on the Missouri State Crisis Intervention Team Counsel and currently serves on the Expansion Committee. Bob also serves on the local Linn County Crisis Intervention Team Counsel.
"I would like to thank the Marceline City Council, City Manager Hoon, and all the citizens for allowing me to serve as Chief of Police," said Chief Donelson. "This is a career long dream for me. Most of all I would like to thank my officers and my family for believing in me and their continued support that allows me to be successful."
# # #