Marceline, MO – Twenty‐five years ago the Marceline, Missouri community came together and raised money to purchase Christmas lights for Main Street USA. It was truly a magical night then, when Santa threw the switch and the entire downtown area of Walt Disney's boyhood lit up.
The 25 years of cold Missouri weather has taken its toll on the original decorations, and they finally wore out.
The Chamber of Commerce has a Christmas Committee that is charged with replacing the street spanning swags. Money has been borrowed to pay the first half of the cost with the remainder due within a year. In order to raise the money for the swags and additional decorations, The Chamber's Christmas Committee have established a fund‐raising campaign on Go‐Fund Me‐ Marceline, Missouri Christmas Lights: http://www.gofundme.com/ouz91g
Residents and visitors will get a preview of one of the new swags in May and July of this year, hanging over Ritchie Avenue by Ripley Park. One of the "old" light pole Christmas trees is presently on display with donor recognition cards at the old Maytag building on Main Street USA (you'll have to check these out at night). All funds raised will be used exclusively for lighting Marceline.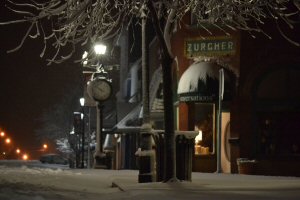 Image of one of the snow scene canvas prints available for sale to raise money for the new downtown Christmas lights.
Because there have been many inquiries about the fabulous downtown snow scene photograph taken by the City Manager, Rich Hoon, that appears on the gofundme site, we have added another way for you to participate in our Christmas Lights campaign. Four of the photos have been developed into gallery wrapped canvases and framed photographs. The finished product can be seen at the NOMO Art Gallery on Main Street USA (Monday evening 7 to 9 pm and Saturday 11 am to 5 pm) and samples of the photos are on display in the Maytag building. All of the four photographs are available in 20x30 and 16x20 gallery wrapped canvases and 11x14 matted, frames pictures. Prices can be found on the order forms on the windows at NOMO and Maytag. Orders will be taken through August.
Quote from Carol Klingsmith, Christmas Committee Member: "Working on this project with Jim Payden and Barb Boyd has been so much fun and has received so much support from not only residents, but friends and family, and even people who have just visited Marceline and love it," said Carol Klingsmith, Christmas Committee Member. "Gosh, even Santa donated to our cause. I especially love Rich Hoon's pictures which are beautiful and will soon be hanging in my house. Christmas is my favorite holiday and the thought of being part of making Marceline sparkle is exciting."
Whether you are a Marceline resident, alumni, friend or just love Walt Disney, the Chamber of Commerce encourages everyone to be a part of making Marceline sparkle during the holidays.
# # #