Marceline, MO – At the Special City Council Meeting on April 13, 2015, one of the Council's first actions was to formally recognize the public service of outgoing Mayor Jacob Gordon, and Councilman Mark Hatfield. Mayor Gordon served on the Council from April 2010 through April 2014 and Councilman Hatfield served on the Council from April 2009 through April 2014, serving as Mayor from 2011 to 2014. Each was presented with plaques honoring their service to the City.
The oath of office was then administered to two newly elected officials, Councilwoman Sallie Buck and Councilman Tyson Brammer by the City Clerk.
Councilwoman Sallie Buck was raised on a farm south of Rothvillle, MO. She graduated Northwestern High School and from Northeast Missouri State University (now Truman State) with a degree in Business Administration. Since 1983, Sallie has been a resident of Marceline, and has been employed with Walsworth Publishing Company for 42 years and active in several civic organizations. Most of her family lives in nearby Linn and Chariton Counties.
Councilman Tyson Brammer was born and raised in Marceline. His entire family has been lifelong residents. He graduated from Marceline R-V with the class of 1992. A year later he moved to Clarksville TN and lived there until 2004. He and his family moved to Chandlerville, IL for 4years before moving back to Marceline permanently in 2008. He married his wife, Dawn, in 2000 and they have two children which they are extremely proud of. Tyson is currently employed at Moore Fans in Marceline and feels very fortunate to work for such a pillar of Marceline industry.
The next item on the agenda was the task of electing a new Mayor and Mayor Pro Tem to serve in those positions for 2015-16. Councilman Josh Shoemaker, was elected by the Council to serve as the Mayor, and Councilman Jeri Holt, was elected to serve as the Mayor Pro Tem of Marceline.
# # #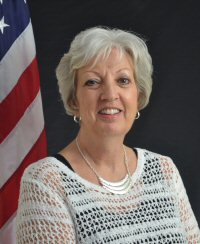 Councilwoman Sallie Buck (above) and Councilman Tyson Brammer (below) took the oath of office on April 13th.