Marceline, MO – As some of the public may have noticed, Main Street USA is starting to shine brighter. The Electric Department has begun changing out the high pressure sodium lights to brighter, energy efficient LED bulbs in the downtown.
A total of 56 lights will be changed out, for higher visibility and increased public safety. Initially, 36 of those lights will be retrofitted with LED's using the existing poles and lantern heads along Main Street USA that will maintain the aesthetics of our historic downtown. The remaining 20 lights will be retrofitted in the spring/summer of 2015 using new, two foot taller poles at the intersections with a total of 4 new poles at each intersection, to include Santa Fe Avenue which currently has only 2 poles. The taller poles will provide a better light pattern at these critical traffic locations and greatly improve public safety. The total cost of this project is approximately $53,000.
"We are very excited to see the effects of this project," said Todd Field, Electric Department Lineman and Project Supervisor. "Now, downtown visitors will notice the store fronts at night, letting the charm of our beautiful town shine where previously there was a dimly lit road in the yellow glow of the old lights."
The LED lights will not only make the downtown area more attractive, but is also environmentally friendly. The City will save approximately 22,500 Kilowatt hours per year and save 33,000 lbs. of Carbon Dioxide from being released into the atmosphere. The saving of approximately 133 lbs. of Sulfur Oxide and 66 lbs. of Nitrogen Oxide equates to permanently taking two cars off the road. With all the light being downcast to the street and sidewalks, there will be virtually no light pollution, commonly called, "City glow".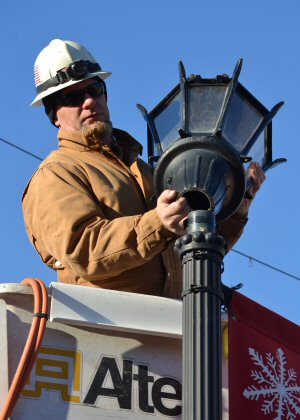 Project Supervisor, Todd Field, installing retrofitted lantern head with new LED feature.
These lights also have an average life span of 50,000 hours, more than three times the current bulbs, and will make upkeep easier, minimize expensive maintenance costs, and improve pedestrian safety in downtown Marceline.
The Electric Department crews are working to have the initial phase of this project completed by Peanut Night so that the public can enjoy a brighter, safer evening.
# # #