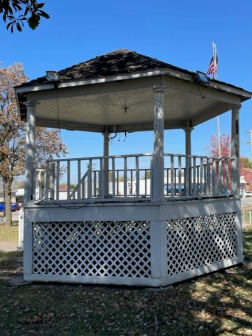 Marceline, MO - The Gazebo, located in Ripley Park, is set for demolition in the week following Peanut Night on November 26, 2022. Following safety concerns from several residents, the City's Building Inspector and Building Official conducted a thorough inspection of the structure and concluded that the integrity of the structure is compromised, and continued use is dangerous for users and is a liability to the City.
The results of the inspection report were presented to the Marceline City Council on November 9th with options on what to do with the current structure. Significant rehabilitation of the structure would require it comply with the Americans with Disability Act standards which would be costly and would drastically alter its appearance. The determination was made to demolish the structure to remove the liability and to make plans to replace the structure with a new ornate gazebo structure that meets ADA standards and remains a community attraction. Once funding is available and design plans are approved, construction of a new gazebo will begin with initial cost estimates of up to $50,000.00.
The history of the gazebo, through several rebuilds and rehabilitations, goes back to when the park was first dedicated. Many long-time residents reminisce about big bands playing there on Saturday nights during summer months.
"It is always heartbreaking to remove a landmark that holds so many memories for so many people in the community, but the safety of the residents is the primary concern," said City Manager Richard Hoon. "but with progress comes change, and a new structure will be built to not only save those memories but create new ones."
The old, elevated gazebo design was primarily used as a focal point in parks and gardens, and was used as bandstands, weddings and ceremonies, or even a venue for special announcements. A new structure will be designed to provide for access to those with disabilities and once again be the main focal point in Ripley Park.
# # #