Marceline, MO - Chariton Valley has donated $1000 to the Downtown Marceline to sponsor the entertainment for the upcoming Wine & Art Stroll scheduled for September 7, 2019.
"This donation means a lot to Downtown Marceline," states Toni Sportsman, Executive Director of Downtown Marceline. "This is our first significant sponsorship for our biggest fundraising event. Chariton Valley's support will allow us to move forward with a growing number of projects and events for the revitalization of Marceline."
OneHorse Town, a well-known band around the area with a local tie, will rock the streets of Marceline at this annual event.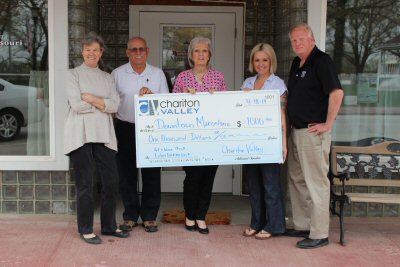 Downtown Marceline members accepting the check are Chris Ankeney, Richard Switzer, Sallie Buck and Toni Sportsman along with Chariton Valley Representative, Tim Smith.
With the ongoing $4,000,000 fiber deployment project, Chariton Valley continues to improve the infrastructure in Marceline. Fiber brings many opportunities to the area including economic development, educational, healthcare and increases the value of a home.
"We are committed to this community and happy to support the Downtown Marceline organization in their efforts to revitalize Marceline," states Donna Bell, Chariton Valley's Manager of Public Relations & Economic Development. "A lot of great things are happening in Marceline and Chariton Valley is excited be a part of it all."
To sign up for fiber go to www.cvfiber.cvalley.net. For more information about fiber optics visit Chariton Valley's Retail Office located at 201 N Main Street-Brookfield, call 660-395-9000 or visit www.cvalley.net.
# # #