Marceline, MO – During its regular scheduled meeting on March 17, 2015, the Marceline City Council approved Ordinance #15-03.06 to implement the City's first Strategic Plan, supported by its Vision and Mission Statement. The 5-year plan defines where Marceline is going, how it will get there and the measures of success over time. It will also ensure the most effective use of the City's limited resources by focusing those resources on key priorities.
Public Meetings were held on February 12th & 26th at the Walsworth Community Center titled: "Community Planning for a United Vision". Approximately 35-45 members of the public attended each session that was hosted by the Green Hills Regional Planning Council. Attendees represented a broad range of the community to include high school students, business owners, industry professionals, farmers, and property owners.
To view the Plan, visit: http://www.marcelinemo.us/home/Marceline_Strategic_Plan.html
"This plan was prepared with input from the citizens of Marceline for a stronger, healthier community in terms of job creation, marketing and tourism, and downtown concerns," said Richard Hoon, Marceline City Manager. "The City, its residents and visitors will benefit in the successful implementation of this Strategic Plan through job creation, business openings and expansions, increased tourism, population increase - all of which increases City revenue and ultimately results in a higher quality of life."
With a population of 2,233, Marceline has unique issues and concerns not shared by larger metropolitan areas with a higher population and diverse demographics, such as crime, transportation, infrastructure, etc. Therefore, the Strategic Planning process for Marceline is more simplistic, addressing the top three concerns that were identified during the public meetings, through goals and objectives that can be accomplished within the next five years.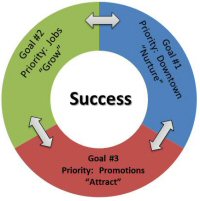 GOAL 1: Enhancement and revitalization of the Downtown Business District with new, vibrant business activity
GOAL 2: Increase employment opportunities and marketable job skills in the City and the Region
GOAL 3: Promote the City, its events and amenities, and support local businesses through increased marketing and promotions
"A community does not function well on a reactionary basis, but rather, it must be proactive, through planning and collaboration, to address the concerns and issues that keep it from being successful." added Hoon.
Following implementation, the City will track the individual projects to gauge the success of a Strategic Plan. Individual successes will be reported publicly through news releases and posted on the City's website at www.marcelinemo.us.
# # #