Marceline, MO - Candidate filing for the Marceline City Council closed at 5:00 pm on Tuesday, January 19th. The General Election for the City of Marceline will be held on Tuesday, April 5, 2016. This year, two (2) Councilpersons will be elected at large to serve three (3) year terms. Currently, those seats are held by Councilman Josh Shoemaker and Councilman Jeri Holt. Councilman Shoemaker is currently serving as our Mayor. Councilman Jeri Holt is our current Mayor Pro-Tem. The candidates vying for the two open seats include Jeri Holt and Natalie Wellman. Once these two candidates are elected to the two open Council seats, they will be sworn in on the Monday, April 11, 2016 following the election.
Councilman Holt has been a Warehouse Supervisor at Walsworth Publishing Company, employed for 24 years. Mr. Holt is a lifelong resident of Marceline and Fire Chief of the Marceline Volunteer Fire Department. Mr. Holt has served on City Council for 8 years in the 1980's and was Mayor 1988-1989. Mr. Holt is very active in the community where he is a member of the Marceline Eagles and Marceline Rotary Club.
Natalie Wellman is the owner of North Central Mo Hunting Dogs since 2006 and is also the co-owner and marketing manager for Wellman's BBQ sauce. Natalie had been very active in the community over the years, coaching several sports, manager of the school concession stand in 2013, and currently an Awana instructor for First Baptist Church where she also volunteers her time serving at the community dinners. Natalie recently joined the NRA Bianchi Cup staff, the national shooting competition where John Wellman and their son Tre Dixon compete. Natalie moved to Marceline in 2004 when she married Lt. John Wellman ( ret.) together they have four sons.
Residents can register to vote for this election at the Linn County Courthouse in Linneus, Missouri until March 9, 2016. Absentee ballots can be filled beginning on February 23, 2016. If submitting by mail, absentee ballots have to be received by the Wednesday prior to the election, March 30, 2016.
# # #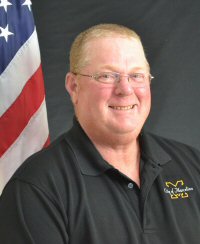 Jeri Holt
Natalie Wellman