Marceline, MO – On August 18, 2014, the Federal Highway Administration (FHWA) announced its approval of the City's 2014 Recreational Trails Grant Application. FHWA received 28 applications with a total funding request of over $3.5 million.
"It is quite an achievement by your organization to be recommended to the Federal Highway Administration," said Bill Bryan, Director of Missouri State Parks, in the announcement letter to the City.
The grant will be applied toward renovation and construction of a 5' wide, 1.1 mile ADA compliant trail at Country Club Lake with updated ADA restrooms, two trail heads, exercise stations, signage and amenities. Due to the scope of the project, it will be constructed over a 2-year period, with a scheduled completion date of October 2016.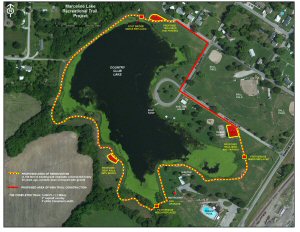 Trail Project rendering (click on image for larger view)
"The current trail is 3,700 feet and has degraded considerably since it was installed approximately 32 years ago," said Ed Ewigman, Street Superintendent and Project Supervisor. "A usable and ADA compliant trail will give our citizens and visitors an additional option to enjoy our parks and assist in improving their quality of life."
The total project cost is estimated at $131,400. The City will provide matching funds of $33,500 (in-kind labor) and has already received written commitment from the Marceline Rotary for a $500 cash donation and 100 volunteer hours. The Missouri Department of Conservation will also be donating tree seedlings and native plant seeds worth up to $6,000.
Renovation and construction on the trail project will begin in the summer of 2015.
# # #