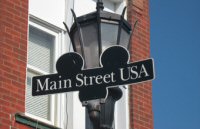 Marceline, MO – The City of Marceline invites the public to a 2-part Visioning & Community Planning sessions on February 12th and 26th at 5:30 pm at the Walsworth Community Center. All area residents are invited to attend. The sessions, titled "Marceline: Community Planning for a United Vision" are being hosted by the City of Marceline, and facilitated by the Green Hills Regional Planning Commission.
The 3-hour sessions will assist the City develop a Vision for what the City will be in 1, 5 and 20 years from now, and to focus its resources and partner with community organizations based on consensus from stakeholders and the general public. During these sessions, area residents and stakeholders will work together to formulate a vision for the City, and to generate a list of changes or activities that would guide the City to achieve that Vision. The City will be using the input to formalize the City's Vision, and prepare a Community Plan – a policy document used as a roadmap for Marceline to follow in achieving the long range goals.
"It's actually a unique and enjoyable process," said City Manager Richard Hoon. "Everyone who attends gets to share their opinions and ideas about Marceline's future without having to actually stand up and speak to the entire audience."
Visioning and (Strategic) Community Planning sessions have been held in many other communities and has proven highly successful in how those communities plan for the future. How involved residents become in sharing their concern for Marceline's future, and how supportive they are of local efforts will ultimately shape the future of the City in terms of what type of services, programs, and events, if any, should be provided. Residents are encouraged to come forward now to express themselves, and this meeting provides an excellent opportunity to have a voice in matters pertaining to the City.
"The Community Plan is a flexible tool that can be used to inspire organizations and companies to embrace the community vision and frame parts of their own strategic planning around it," added Hoon. "The Vision and the Community Plan also serves as a commitment by the community, and provides future efforts with something on which to build. The important thing is that it is used, not simply published, bound, and left to gather dust on the shelf."
For more information about the Vision & Community Planning sessions, contact Richard Hoon, City Manager, at (660) 376-3528 or email richard.hoon@marcelinemo.us.
# # #